Outdoor Flying Trapeze Brisbane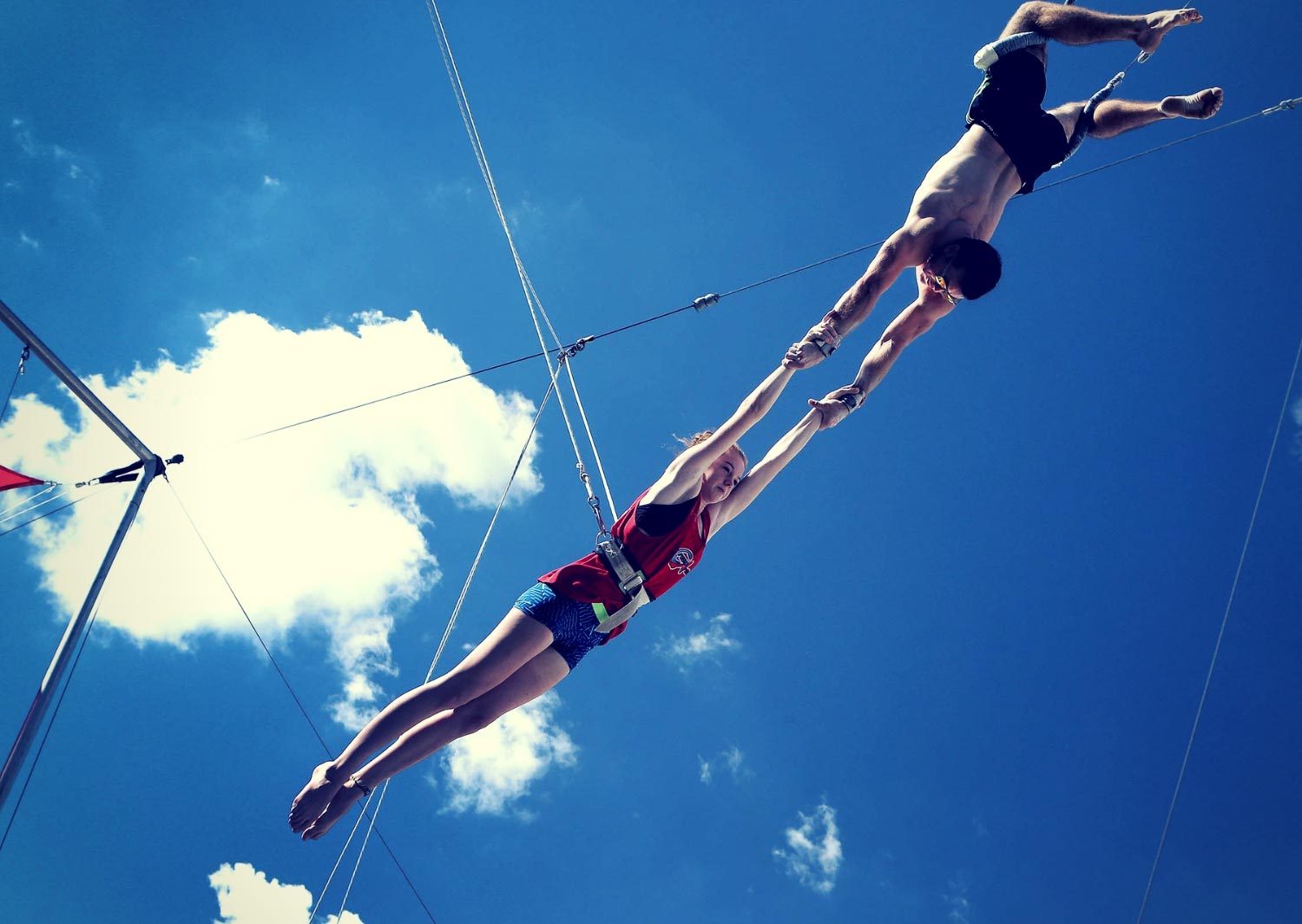 If you would like to learn the art of flying trapeze or looking for an unforgettable adventure experience, then our 10m high flying trapeze is the one for you! Flying trapeze is achievable for all levels of ability and no previous experience is required.
WHAT YOU WILL LEARN
Starting on the ground, you will receive a full briefing and learn the basic trapeze positions on the low practice bar. Afterwards, in the safety of a harness, you will progress to the flying trapeze ready for your first swing! Under the watchful eye of our professional instructors, you will learn a position on the bar, a backflip dismount and attempt a catch, all in one lesson.
Casual classes can be undertaken by people of all levels of ability. However, a special Intermediate/Advanced class is available for teens and adults, experienced flyers or dedicated intermediate flyers. This class teaches flying out of lines, nailing back end tricks such as splits, straddles and whips and breaking tricks such as layouts and doubles.
OUTDOOR LOCATION
This location is outdoors so classes will be affected by wet weather. In the case of rain, our local instructors will decide on the day whether the class will go ahead. We aim to give participants as much notice as possible on the day if classes need to be cancelled and rescheduled.
This venue has free off-street parking, bar, cafe and wheelchair access. Please note that Golf Central is a no BYO venue.
WHEN
On Saturdays and Sundays during QLD school term and every day of the week during QLD school holidays.
Please click on the booking buttons to see the available dates and times.
DURATION:
Approximately 1.5 hours.
PARTICIPANTS:
Suitable for 5 years and over. Groups are of mixed ages and abilities. Each participant can work on their own trick and progress individually. 
COST
Casual class: $68
6 week course: $198 ($33 per class)
6 classes

2 months expiry from purchase date

Purchase a "Flying Trapeze 6 week course pack" from prepaid packages and book any available classes within the 2 month period
10 pack (6 month expiry): $380 ($38 per class)
15 pack (6 month expiry): $495 (33 per class)
WHAT TO BRING
Your booking confirmation.

Purchase chalk bag for $5

Comfortable, close fitting clothing, with pants or leggings that cover the knees.
Be sun smart – the trapeze is an OUTDOOR rig, therefore sunscreen is a must, as well as sunglasses and hat during waiting periods.
Shoes are required in the venue but will not be worn while participating in classes.
A water bottle.
Please tie back long hair and wear minimal jewellery.
Do not bring valuables to the venue, as their security cannot be guaranteed while classes are in progress.