Circus Arts Byron Bay (also the HQ) boasts a massive 1200 sqm indoor space that offers its famous 10m high flying trapeze.
There's a great range of circus programs for all ages – toddlers, kids, teens and adults – with the opportunity to progress and develop skills.
The Byron venue offers a comprehensive timetable of activities during both the QLD and NSW school holidays including full and half day circus programs, flying trapeze, Ninja Warrior kids classes, free balloon twisting workshops, indoor climbing and kids play space.
Our venue also offers the only indoor climbing wall in Byron with both manual and auto belay systems available.
Suitable for beginners through to professional performers, the space offers a range of professional equipment like 10m long tumble track, static trapeze, silks, lyra, Olympic size trampoline, the new tramp wall and more.
This venue has off street parking and wheelchair access.
School Holiday Programs & Bookings
Our class timetable changes according to NSW and QLD school holidays please be sure to pre book to avoid disappointment.
School Holidays Now on! December 17th 2018 – January 26th 2019.
Term Timetable
Our term classes run for 10 weeks according to the NSW school terms.
Circus Arts is a registered provider for Active Kids & Creative Kids rebate programs.
2019 TERM DATES
Term 1: 4 February – 12th April
Term 2: 29 April – 5 July
Term 3: 22 July – 27 September
Term 4:14 October – 20 December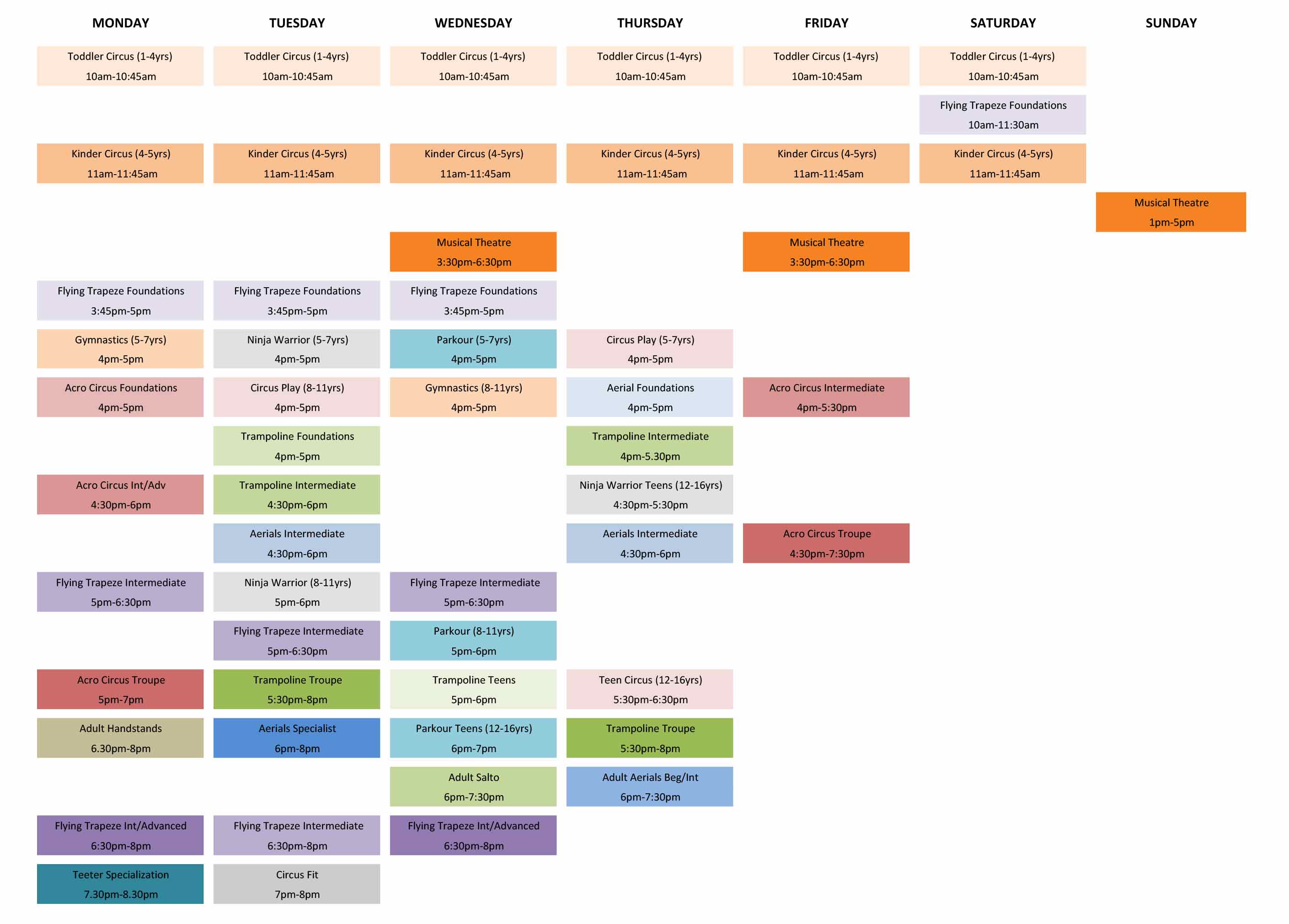 BYRON BAY PARTY PACKAGES
For corporate and private bookings and team building activities visit our Group Bookings page.
Circus Tricks
$230
A private circus class for you and your mates to learn mini tramp, juggling, hula hoops, tight wire, aerials and more!
– Ages 5+
Big Top Special
$290
Learn mini tramp, juggling, hula hoops, tight wire, aerials and have a swing on the flying trapeze!
– Ages 5+
Flying Fun
$660
For the those who love the thrill of heights this party is for you! Pure high flying trapeze fun. Hens parties, bucks and more.
– Ages 5+
Ringmaster SPecial
$790
This is the ultimate circus and flying trapeze package for the grown ups.
Learn tight wire, juggling, aerials, and acro and, for those who haven't lost their nerve, the high flying trapeze!
This is a party that will be talked about for many years to come!
Clown Around
$50
 Circus skills with balloon animals, games and your very own clown. A magic show kids will absolutely love! 
– Ages 1-10.
– 1 hour for up to 10 participants
– $26 per additional participant
Kids Play Party
$8 p/p
 A secure space for kids including jumping castle, climb & slide & ride in cars, bridge with building blocks and more!
– Ages 1-10 years.
– 2 hours for up to 30 participants
– Maximum 30 participants
Climbing Party
$25 p/p
Byron's only indoor climbing wall with 20 different climbs for all levels of ability. Includes a coach for the duration.
– Ages 4 and over.
– 2 hours for up to 20 participants
– Minimum of 10 participants
– Minimum 2 adults required to assist with belay.
CIRCUS ARTS CAFE
Circus Arts Café, located on site, offers a healthy and fresh menu of home-made dishes, snacks and beverages. We use local produce and organic ingredients wherever we can. Enjoy barista made coffee and plenty of vegan options.
9am to 5pm – weekdays
9am to 2pm – weekends
WHERE IS CIRCUS ARTS BYRON BAY?
ADDRESS
17 Centennial Cct, Arts & Industry Park, Byron Bay NSW 2489
OPENING HOURS
9am to 7pm – weekdays
9am to 3pm – weekends
CIRCUS ARTS CAFE
9am to 5pm – weekdays
9am to 2pm – weekends