flying
trapeze
All levels from complete beginners to advanced flyers. Casual classes and serious training.
byron's only flying trapeze
Suitable for all ages (5+) this is an incredible activity that will allow you to experience the thrill of flying and performing acrobatic tricks in the air!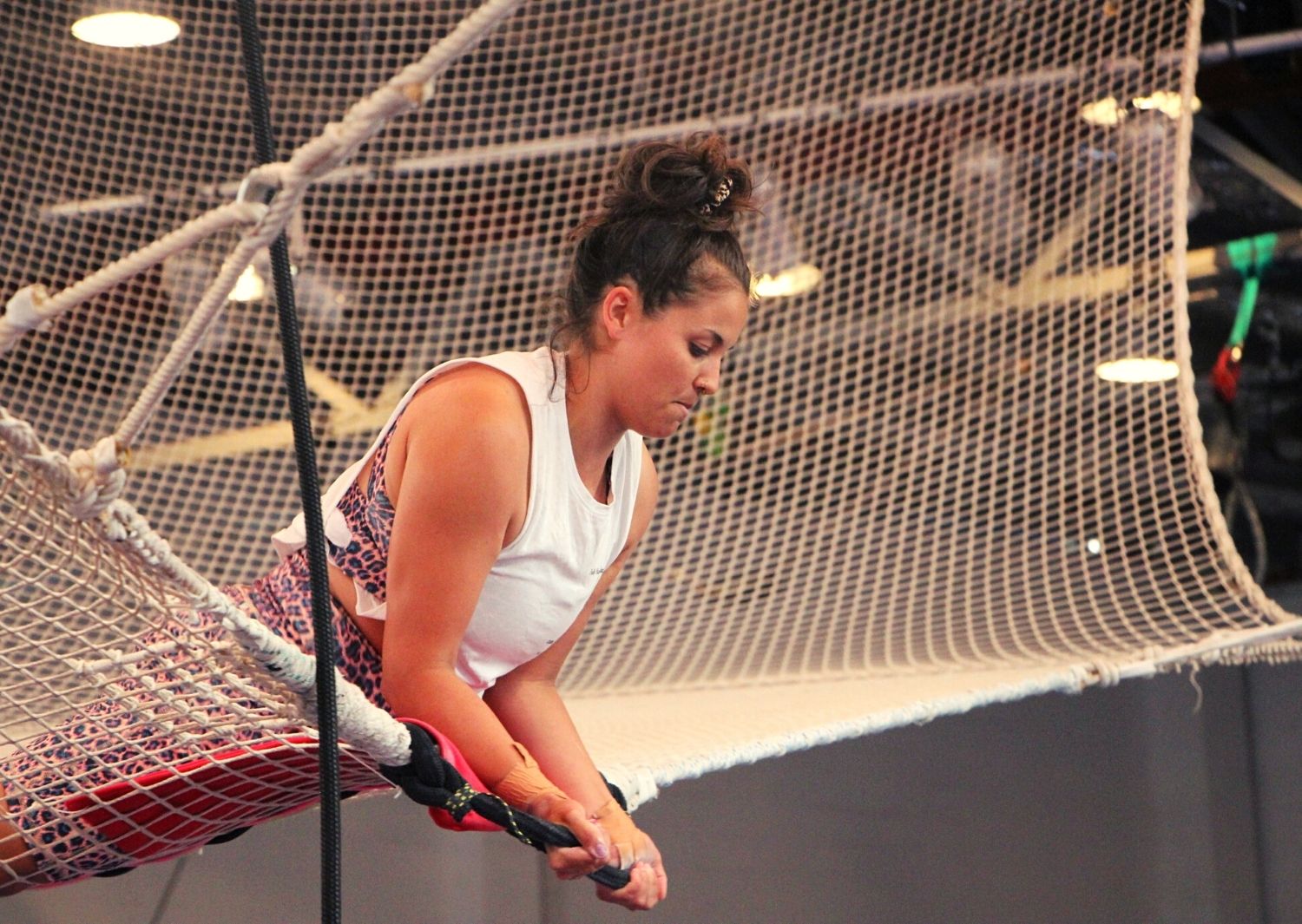   
What a fantastic first experience on the flying trapeze at Circus Arts Byron Bay. I felt safe and fully supported at all times. I truly appreciated the team's belief that I could do what they asked me to do which was way more than I was expecting or could have imagined I was capable of at my age. I will be back for more!
Margaret Thomas
  
Tried the flying trapeze class for the first time. The staff were warm, friendly, and reassuring. There was lots of encouragement and the atmosphere was welcoming. We would definitely go back!
Amy Bourke
Flying Trapeze (Levels program & Casual)
FLYING TRAPEZE FOUNDATIONS
Starting on the ground, you will receive a full briefing and learn the basic trapeze positions on the low practice bar. You will learn a position on the bar, a backflip dismount and attempt a catch, all in one lesson. This class is suitable for ages 5 and over and can be undertaken by people of all levels of ability.
FLYING TRAPEZE INTERMEDIATE
Start learning how to practice on the low bar unassisted and other drills to improve your flying. Learn more difficult tricks and how to generate your own swing height.
FLYING TRAPEZE ADVANCED
This class is suitable for the flyers looking to take their skills out of lines to the net. Suitable for flyers 15 years and older.
Catch & Fly
This class is designed for those wanting to learn how to be a flying trapeze catcher. It is the ideal next step for those who have just completed their Flying Trapeze Coaching Course as well as advanced flyers. Suitable for  flyers 16 years and older.
Term Dates
February 5 - April 12
April 29 - July 5
July 22 - September 27
October 14 - December 20
Flying Trapeze Foundation
Monday, Tuesday, Wednesday, Thursday | 3.45pm
Saturday | 1pm
All levels
Casual class $68, 10 pack $380, 15 pack $495, Term $290

Get a pack of classes and save
10 pack (6 month expiry): $380 ($38 per class)
15 pack (6 month expiry): $495 ($33 per class)
Flying Trapeze Intermediate
Monday, Tuesday, Wednesday, Thursday | 5pm
Saturday | 9am
Casual class $68, 10 pack $380, 15 pack $495, Term $290
Flying Trapeze Advanced
Monday, Wednesday, Thursday 6.30pm-8pm
Saturday | 11am
Casual class $68, 10 pack $380, 15 pack $495, Term $290
Flying Trapeze Catch & Fly
Tuesday 6.30pm-8pm
Casual class $68, 10 pack $380, 15 pack $495, Term $290
Prerequisites
Participants need to be able to hold their body weight on the bar.
Flying trapeze weight restrictions – up to 100 kg.
What to bring
Comfortable, close fitting clothing, with pants or leggings that cover the knees.
Shoes are required in the venue but will not be worn while participating in classes.
A water bottle.
Please tie back long hair and wear minimal jewellery (rings and bracelets will need to be removed for the duration of the class).
Do not bring valuables to the venue, as their security cannot be guaranteed while classes are in progress.
Cancellations
Drop-in classes – a minimum 3-day notice is required to reschedule a class.
Term classes – no make-up classes are available. Term classes can not be rescheduled as they are offered at a highly reduced price. If you would like the flexibility of being able to reschedule a class, please purchase 10/15 class pack.
Safety
All participants wear a safety harness at all times (except for advanced students who fly out of lines). Classes are of mixed age groups, the duration is approximately 1.5hrs. Casual and term classes are available. Term bookings must be made by the first two weeks of the term.
Flying Out of Lines
All students wanting to fly out of lines must have sign off from one of the head coaches. If you are not a regular flyer at Circus Arts please email or call ahead to see which classes are best for advanced flying.
TERMS & CONDITIONS
Prepaid packs of classes are designed to be used by one person only so that the person can progress their skills. Please note before purchasing a pack that it can not be used by multiple people. Packs are valid for 6 months from the date of purchase.
Flying Trapeze Times & Pricing
Flying Trapeze Foundations:
Monday, Tuesday, Wednesday 3.45pm – 5pm
Saturday 9am – 10.30am, 11am – 12.30pm, 1pm – 2.30pm
Casual class $68, 10 pack $380, 15 pack $495, term $290
Intermediate Flying Trapeze
Monday, Tuesday, Wednesday 5pm – 6.30pm
Casual class $68, 10 pack $380, 15 pack $495, term $290
Intermediate/Advanced Flying Trapeze
Monday, Wednesday 6.30pm-8pm
Casual class $68, 10 pack $380, 15 pack $495, term $290
Catch & Fly
Tuesday 6.30pm-8pm
Term $290 (ten weekly classes)